Handmade XXXL Ceramic Chubby Mug - Unique Cute Large Mug for Coffee & Tea
What's Special About These Handcrafted Cute Large Coffee Mugs: 
MAGNIFY CUTENESS - We enlarge our iconic Chubby Mug to magnify its cuteness. This

 handmade ceramic coffee mug is the perfect choice for those who love unique and funny mugs

 
MULTI - FUNCTIONAL - With a

whopping

capacity of 790ml, this giant coffee mug is not only for your morning coffee, but could also be used as cereal bowl. 
IDEAL FOR OFFICE - This huge coffee mug is a no brainer for anyone tired of walking back & forth between the desk and water dispenser
Product Details
Type: Large Coffee Mug / Oversized Coffee Mug / Huge Coffee Mugs / Cereal Bowl
Materials: Ceramics
Style: Melon / Milk / Peach
Capacity: 790ml
Microwave, oven and dishwasher safe
Sizes: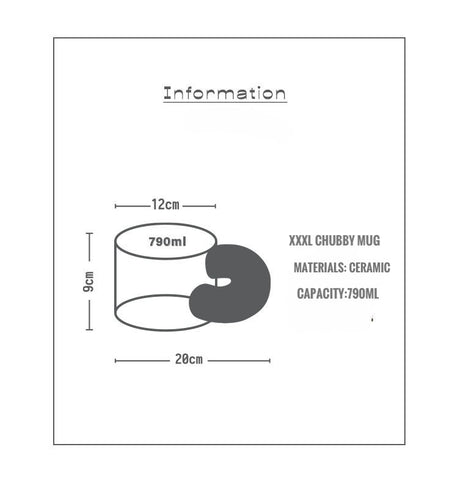 * Please note that: 
If you found that there is a small hole in your ceramic items, please note that

 

it is 100% not a defect. I

t is out of the requirement of crafting process of ceramics.
Although we try our best to ensure every pics reflect the original color of each item, there might still be difference in colors due to the shooting conditions, the screen of your computers and etc.